Crocodile Tours
$65.00 
Welcome to real Crocodile Tour, You will see the crocodiles in their natural habit and the wildlife that lies surrounding the river Tarcoles and boating around the mangroves, for those that love the adrenaline this is a must and also for those nature lovers, defiantly shouldn't miss this.
Crocodile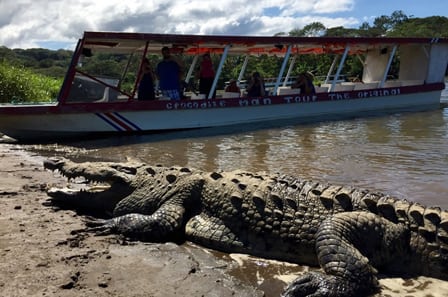 Description
Tarcoles River Crocodile Tour
The crocodile tour is well known, is amazing, you will see a man a getting down of the boat in one site and within a short distance from the boat perhaps 2 meters or even less and feeding a crocodile pushing the crocodile to go out of the waters by itself the crocodile, so people can see the full body of the it, they have a name for almost all the crocodile.
The adventure of the tour is the best options for those seeking the adventure on the River Tárcoles, a man feeding a crocodile, a lot of wildlife in their nature spot, the mission is to lead the development of sustainable tourism in the region of Tárcoles which is a rural small city, 20 min from the popular town of Jaco beach . if you are in San Jose city which is the capital of Costa Rica you are
just like one hour far from this amazing place.
Are you looking for the best adventure tours and alligator in the region? Our tours take place in the Rio Grande do Tárcoles, which is home for about 2,000 crocodiles, measuring more than 15 feet long and weigh up to 1,500 pounds!
The boat has a roof, seats, and guides in the facility to ensure the complete safety of all guests. This tour is a certificate from the Office of Tourism of Costa Rica.  ICT. Ones you get on the boat the Personal will let you know what to expect within the trip if you love taking pictures of nature this tour is a must. During the tour, we will visit the Guacalillo mangroves, one of the most fragile ecosystems in the country, an area for bird watching.
A real unforgettable experience a waits  for you, book now!, the tour is available: 8am  | 10am | 12 noon|  2pm | 4pm. Transportation maybe include please contact us to right now!
Need Help Planning Your Vacation?